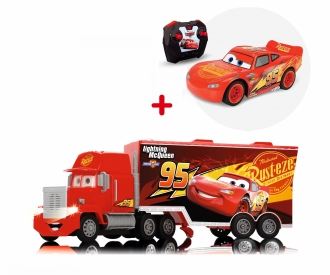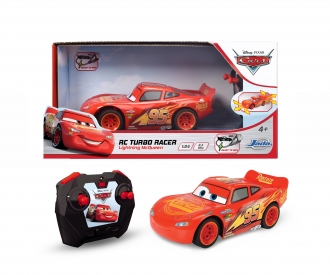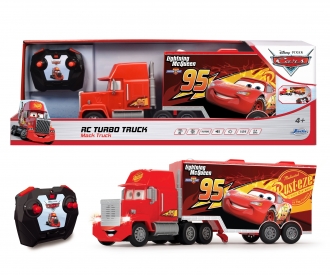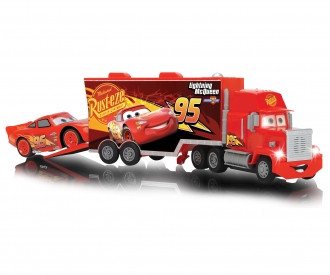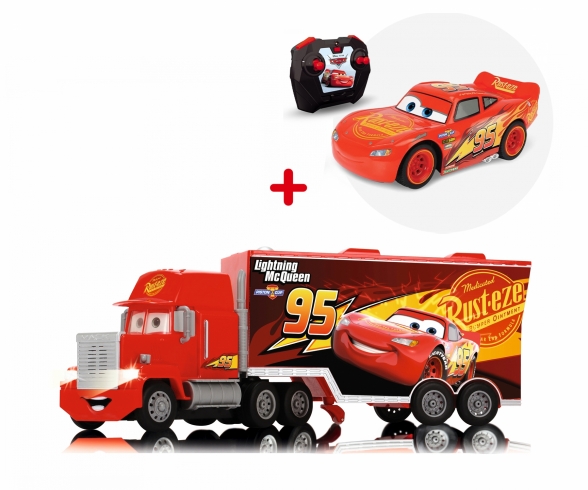 New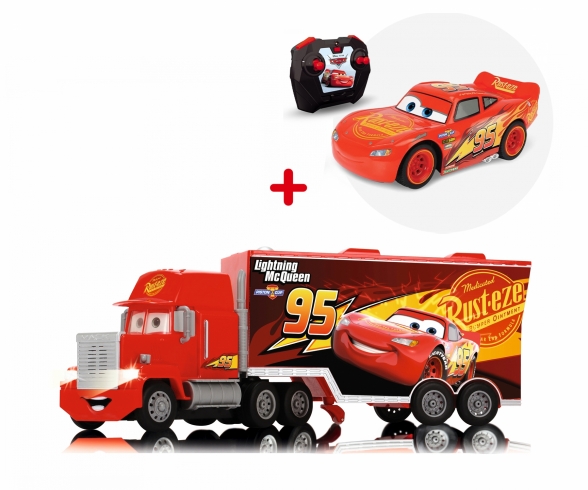 €104.98 (-24%)
€79.99
incl. VAT
free shipping
(within the EU)
Quantity:
1
2
3
4
5
6
7
8
9
10
11
12
13
14
15
16
17
18
19
20
21
22
23
24
25
26
27
28
29
30
Delivery time 1-3 working days within Germany
Product bundles consisting of: RC Cars Turbo Mack Truck | RC Cars 3 Lightning McQueen Turbo Racer
Article number: 203089039
Product: RC Cars Turbo Mack Truck

Jada Toys Cars 3 Turbo Mack Truck: always at hand when Lightning McQueen needs help! Without truck Mack, Lightning McQueen would indeed never have met his friends in Radiator Springs. And in other ways too, the truck is always on-the-spot for the hero. As also in Cars 3 in the cinema and as the exciting toy version Turbo Mack Truck from Jada Toys in the playroom. The toy car comes with a
3-channel RC system (2.4 GHz) via which the trailer can be unhitched. The trailer's tailgate can be opened manually. In addition, the turbo function as well as light and sound can be activated. The range of the car's RC system is up to 20 metres, depending on the environment. Just insert the additionally required batteries and children aged five and above can immediately get going with the impressive friend of Lightning McQueen.
Article number: 203084028
Product: RC Cars 3 Lightning McQueen Turbo Racer

Jada Toys RC Cars 3 Lightning McQueen Turbo Racer: Speed across the racing track!
Who will win the trophy for the fastest car and the most daring manoeuvre? Challenge your friends to a race with the RC Cars 3 Lightning McQueen Turbo Racer from Dickie Toys! Thanks
to the turbo function, the toy car will quickly race ahead of the competition. Suitable for children aged four and above, the 2-channel remote control is easy to use and can steer the vehicle in all four directions. When the vehicle battery is empty, simply recharge it using the USB cable provided.

Warning! Not suitable for children under 3 years due to small parts. Choking hazard!
Article number: 203089039
Product: RC Cars Turbo Mack Truck

Technical details:
RC Cars 3 Turbo Mack Truck
Toy truck with 3-channel RC (2.4 GHz)
Turbo function
Light and sound
Trailer can be unhitched via RC
Trailer tailgate can be opened manually
Range: 20 metres
Batteries: not included
Scale: 1:24
Length: 46 cm
Recommended age: 5+ years
Article number: 203084028
Product: RC Cars 3 Lightning McQueen Turbo Racer
Original ref.: RCCars 3 Lightning McQueen Turbo Racer
remote-controlled toy car with 2-channel radio control system
frequency: 2.4 GHz
with turbo function
Control: right-left, forward-backward
USB charging function (charging cable included)
Length: 17 cm
Scale: 1:24
Batteries for remote control included
Age recommendation: 4+