---
Sort by:
Top sellers
New
Price ascending
Price descending
Filter
---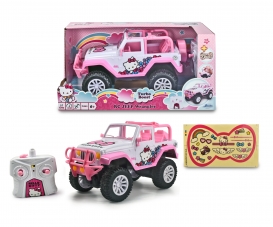 Hello Kitty
Hello Kitty RC Jeep Wrangler 1:16
253246002
€49.99
Jada Toys - Hello Kitty Jeep Wrangler RC – On tour with a cute cat The cute pink cat from Hello Kitty is exceptionally popular among children. The beloved cat is now available as part of a remote-controlled SUV set. The perfect toy for an exciting doll-themed adventure! The Jeep is a real eye-catcher and can move effortlessly across all types of surfaces. Travel in style over rough terrain Unlike most Jeeps or cars with large tyres, which tend to have dark-coloured paintwork, the Hello Kitty Jeep Wrangler has a bright pink design that stands out from the crowd and matches perfectly with the colour of the remote control. The vehicle also comes with a Hello Kitty sticker sheet, which you can use to decorate the vehicle and give it a personal touch. The interior features an adjustable seat with space for a doll (available separately). The ideal remote-controlled doll car for children aged 6 and above! The vehicle is controlled via a 2-channel, 2.4 GHz remote control and features a turbo function for accelerating over rough terrain. Thanks to the thick rubber tyres, the Jeep can handle all sorts of terrain, making it the perfect toy for exciting off-road adventures. Technical data:  2-channel 2.4 GHz remote control Turbo function for speeds of up to 6 km/h Batteries not included (requires 6x AA batteries) 1:16 scale For children aged 6 and above 30 cm long
More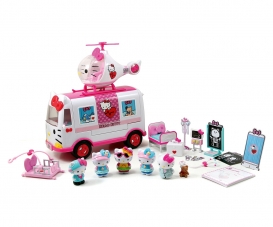 Hello Kitty
Hello Kitty Rescue Set
253246001
€49.99
Dickie Toys Hello Kitty Rescue Set: Helicopter to the rescue! The helicopter from the Dickie Toys Hello Kitty Rescue Set can be on the scene in no time. It transports emergency patients to the mobile A+E unit for treatment. Designed for children aged 3 and above, the highly-detailed rescue set features a Hello Kitty design and can be used to create a wide range of emergency role play scenarios. In addition to a helicopter, the Rescue Set also includes a push-along ambulance that can be easily converted into a mobile A+E unit. It comes with a wide range of accessories that are guaranteed to keep your little one entertained for hours on end, including 6 Hello Kitty figures, hospital beds, an X-ray screen, doctor's instruments and a removable stretcher for the helicopter. Surprise your little one with the Hello Kitty Rescue Set and discover other highlights from the Dickie Toys Hello Kitty range!
More