---
Sort by:
Top sellers
New
Price ascending
Price descending
Filter
---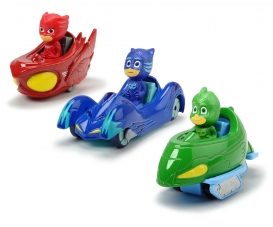 PJ Masks
PJ Mask 3-Pack
203143000
€19.99
PJ Masks 3-Pack: three heroes – one mission The PJ Masks 3-Pack by Jada Toys contains all three fast-moving vehicles from the PJ Masks hit series: the Cat-Car, Owl-Glider and Gekko Mobile are all controlled by their respective heroes as permanently-installed figures. Each free-wheeling toy vehicle has a die-cast surface that is particularly high-quality, durable and accurate in every detail. This trio is an absolute must for fans of the series and will provide many hours of fun.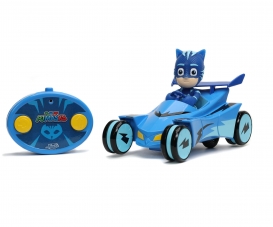 PJ Masks
PJ Masks RC Cat Car
253144000
€29.99
Jada Toys PJ MASKS Cat Car as a remote control toy car (7.5 inches/19 cm) - PJ Masks RC Cat-Car with Catboy incl. remote control, up to 1.5 mph (2.5 km/h), toy for children ages 3 years and up PJ MASKS Cat Car: RC car with "Catboy" at the wheel • Toy car with remote control and built-in "Catboy" action figure from PJ MASKS • Length: 7.5 inches (19 cm) • Remote control: 1-channel 2.4GHz remote control for up to 16 vehicles at the same time, batteries NOT included (3 AA and 2 AAA alkaline batteries required) • Age recommendation: Children's toy for 3 years and up PJ MASKS vehicle as a remote control car With this remote controlled RC car, girls and boys ages 3 and up can become their favorite pajama hero from the TV series! The PJ MASKS hero Catboy himself sits at the wheel of the blue Cat Car to accompany girls and boys on their heroic adventures, fast-paced chases and exciting races with the toy car! Toy car for children ages 3 years and up Thanks to the simple 1-channel remote control with only two buttons, it is extremely easy to steer the Cat Car straight forward or backwards in a curve. The 2.4 GHz technology ensures a stable connection so you can play without any interruptions. The remote-controlled model car moves at a maximum speed of 1.5 mph (2.5 km/h) - just the right speed for little superheroes to keep it under control and still build dexterity and fine motor skills. Jada Toys - Hollywood heroes as toys and collectibles Batman, Fast & Furious, Harry Potter, Marvel, Minecraft or Transformers: With Jada Toys, you can bring famous Hollywood stars into your living room as detailed replicas of movie characters and cars. As a leading manufacturer of Hollywood action figures and model cars, we have been creating high-quality, detailed collectibles for children and adults for more than 20 years.  
PJ Masks
PJ Masks Team Headquarter incl. 1 Die-Cast vehicle Cat-Car
203145000
€62.99
PJ Masks Team Headquarter: There's always something going on here! Proper superheroes also need a proper hideout. And in the playroom, this hideout is the Jada Toys PJ Masks Team Headquarter with its many different functions. The multi-storey playset faithfully reproduces the headquarter from the series and features ramps, a shooter and an elevator. A die-cast toy car with a Catboy figure is included, ensuring hours of fun in the PJ Masks world.