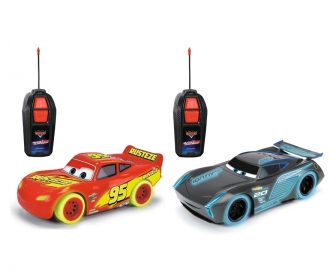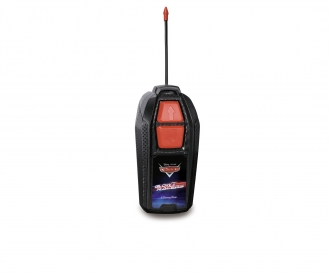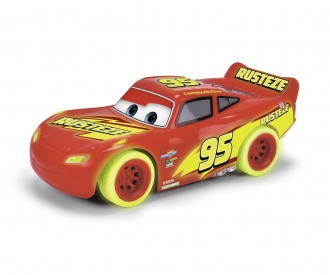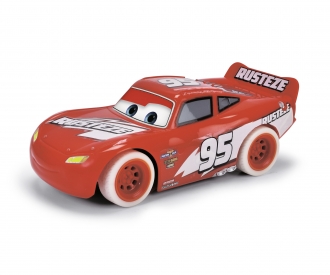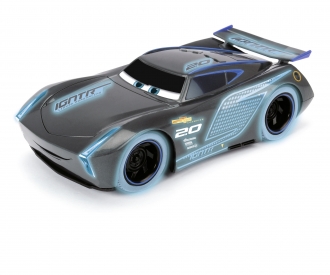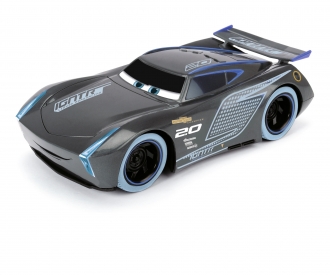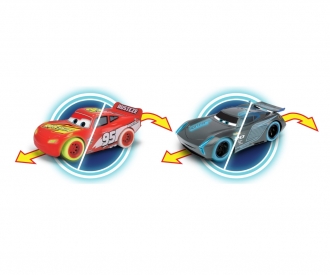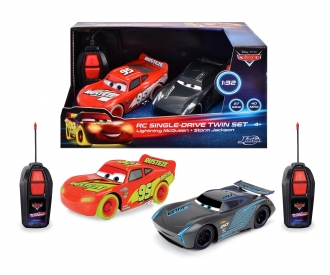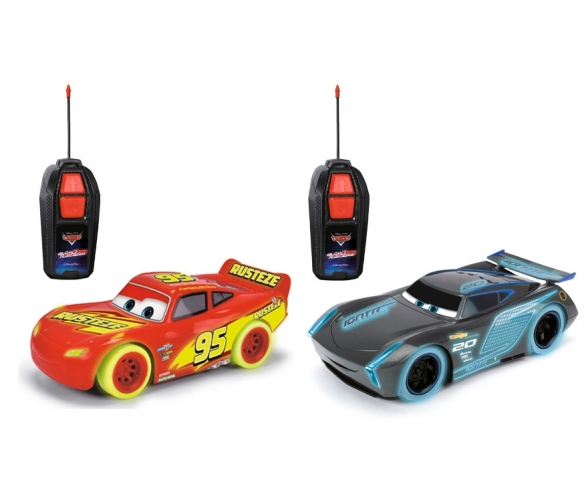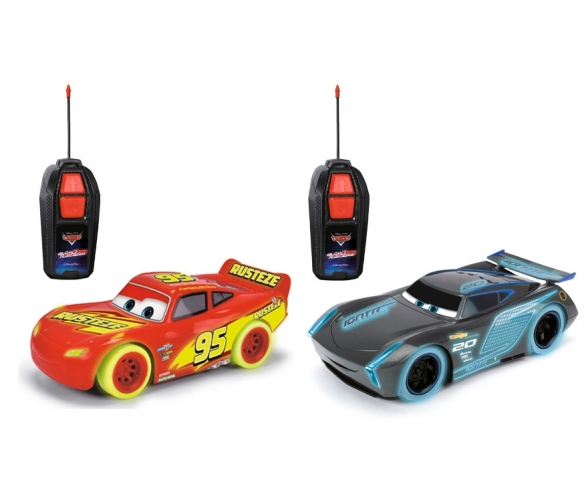 We will notify you by email as soon as this item is available again.
Product information
Jada Toys - RC Glow Racers Lightning McQueen & Storm Jackson (je 14 cm), Single Drive Twin Set aus Disney Pixars Cars, 2 ferngesteuerte Autos mit Leuchteffekt, Spielzeug für Kinder ab 4 Jahre
2 ferngesteuerte Jada Toys Glow Racers aus Disney Pixars Cars
• 2er-Set RC Single Drive Spielzeugautos: Lightning McQueen und Jackson Storm
• pro Auto: 1-Kanal-Funkfernsteuerung (Lightning McQueen: 27 MHz, Jackson Storm: 40 MHz)
• 5,5-6,5 km/h
• benötigte Batterien pro RC Car (NICHT enthalten): 2x 1,5V-LR6 für Fahrzeug, 1,5V-LR6 für Steuerung
• je 14 cm, Maßstab: 1:32
• Altersempfehlung: Kinderspielzeug ab 4 Jahre
Doppelter Rennspaß: Das ultimative Twin Set für Rennfahrer ab 4 Jahren!
Mach dich bereit für doppelte Rennauto-Action, denn hier kommen die beliebten Cars Helden Lightning McQueen und Jackson Storm im Jada Toys Doppelpack! Mit einer Länge von jeweils 14 cm im Maßstab 1:32 bieten die RC Glow Racers kleinen Mädchen und Jungen ab 4 spannende Rennfahr-Erlebnisse. Doch erst wenn es dunkel wird, offenbaren die beiden Spielzeug Autos ihre Superpower: Die lizenzierten Disney Pixar Cars sind mit einem Glow-in-the-Dark-Effekt getuned, der die Dekorationen und Reifen der Spielautos bei Dunkelheit leuchten lässt!
Kinderleichte Steuerung
Vorwärts-geradeaus oder rückwärts mit Kurve? Die Fernbedienungen der Remote Control Cars verfügen über 2 Knöpfe, mit denen selbst Kleinkinder jede Rennstrecke bewältigen und ganz nebenbei ihre Feinmotorik und Koordination trainieren. Die ferngesteuerten Autos eignen sich ideal für kleine Wettrennen mit Freunden und Geschwistern.
Jada Toys – Hollywoods Helden als Spielzeuge und Sammlerstücke
Batman, Fast & Furious, Harry Potter, Marvel, Minecraft oder Transformers: Mit Jada Toys holst du dir bekannte Hollywood-Größen als detailgetreue Nachbildungen von Filmfiguren und -autos in dein Wohnzimmer. Als führender Hersteller von Hollywood Actionfiguren und Modellautos kreieren wir seit über 20 Jahren hochwertige, detailgetreue Sammlerstücke für Kinder und Erwachsene.

Warning! Not suitable for children under 3 years due to small parts. Choking hazard!
---
Product details
• Ferngesteuertes Auto im Doppelpack - Gleich 2 offiziell lizenzierte Rennautos aus Disney Pixars Cars in einem Set: Die Cars Figuren Lightning McQueen und Jackson Storm als RC Racers mit Glow-Effekt!
• Perfekt für Wettrennen - Wer gewinnt das Rennen der beiden Piston Cup Champions? Beide Remote Control Cars können sowohl vorwärts-geradeaus als auch rückwärts um die Kurve gelenkt werden.
• Einfache Steuerung - Das Spielzeugauto-Set enthält pro RC Car eine 1-Kanal-Fernbedienung (27 MHz bzw. 40 MHz) mit 2 Knöpfen, geeignet für Kinder ab 4 Jahren. Die Batterien sind NICHT enthalten.
• Glow in the Dark - Auch bei Dunkelheit begeistert das Cars Spielzeug die Mädchen und Jungen: Beide Fahrzeuge sind mit Aufklebern und Reifen ausgestattet, die im Dunkeln anfangen zu leuchten!
• Jada Toys - Hollywood Modellautos für Zuhause: Als führender Hersteller von Hollywood Action-Figuren und -Autos bringen wir die Filmhelden als detailgetreue Nachbildungen zu euch ins Wohnzimmer.