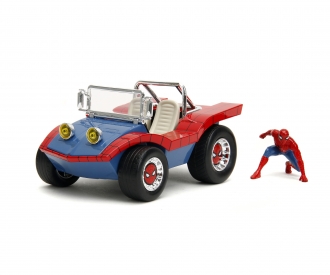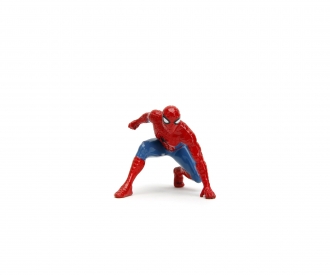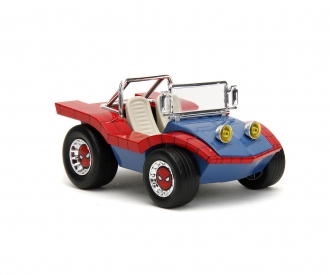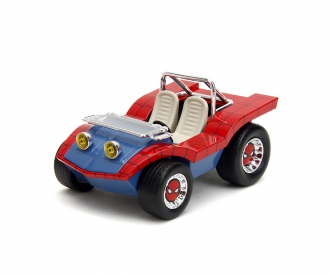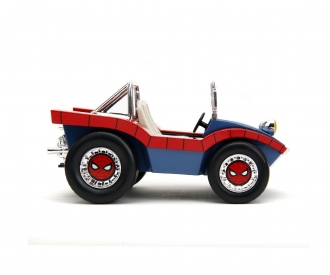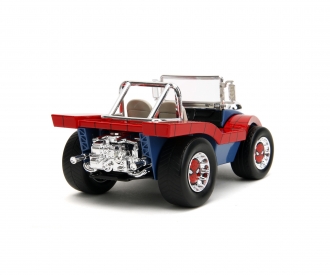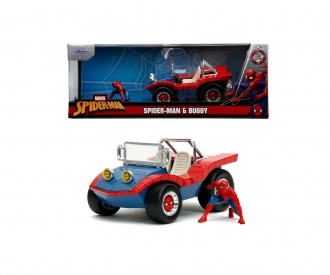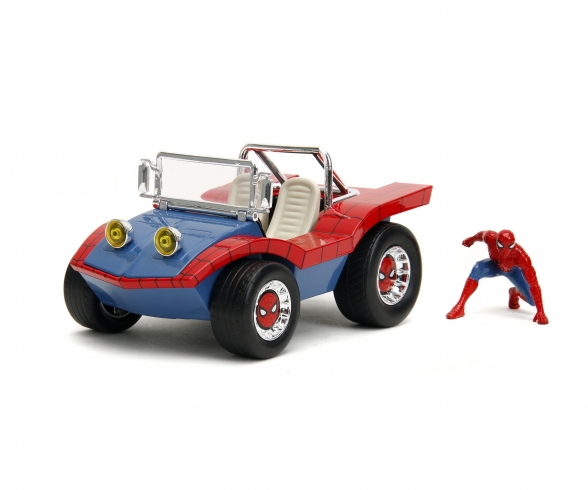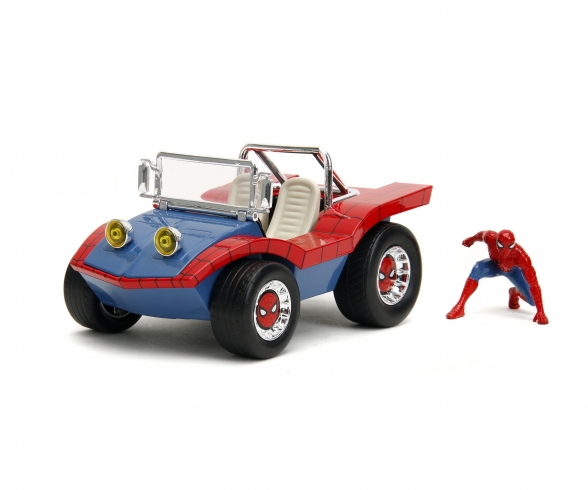 Quantity:
1
2
3
4
5
6
7
8
9
10
11
12
13
14
15
16
17
18
19
20
21
22
23
24
25
26
27
28
29
30
Delivery time 1-3 working days within Germany
Product information
Jada Toys Figurine Spider-Man de MARVEL avec son buggy - Coffret de jouets en métal avec figurine (4,5 cm) & voiture (19 cm) dans le style des comics Spider-Man, pour les fans de MARVEL et les enfants à partir de 8 ans
Figurine Spider-Man de MARVEL avec son buggy (échelle 1:24)
• Contenu de la livraison : figurine de Spider-Man et voiture à roue libre emballées dans une boîte avec fenêtre
• Licence officielle de MARVEL
• Matériau : métal (Die Cast)
• Dimensions : 19 cm (voiture), 4,5 cm (figurine à collectionner)
• Âge recommandé : à partir de 8 ans
Des aventures héroïques avec le légendaire Spider-Man de MARVEL
Ramenez le « gentil voisin d'à côté » chez vous ! Cette figurine métallique très détaillée, y compris la voiture miniature en buggy, dans le style original du comics trouvera sa place dans votre collection ! La petite figurine de Spider-Man pose dans une position imposante de super-héros, prête à sauter vers la prochaine aventure ! Son véhicule buggy sans toit donne au super-héros MARVEL la liberté dont il a besoin pour traquer les criminels sans être gêné. Il peut ainsi traverser la ville à toute vitesse en roue libre dans une voiture et, de là, s'élancer dans les airs ou grimper aux murs à la vitesse de l'éclair.
Une qualité supérieure pour des super-héros de première classe
Que ce soit MARVEL Avengers, MARVEL Studios The Infinity Saga ou MARVEL Spider-Man, toutes les figurines Jada Toys MARVEL sont des collectibles MARVEL sous licence officielle. Le coffret de jouets Spider-Man est fabriqué en métal durable et son design s'inspire du look toile d'araignée rouge et bleu des comics et films classiques de MARVEL. Le duo attire ainsi particulièrement l'attention et devient un objet de collection décoratif pour les grands et petits fans de MARVEL à partir de 8 ans.
Jada Toys – Héros de Hollywood comme jouets et pièces de collection
Batman, Fast & Furious, Harry Potter, Marvel, Minecraft ou Transformers : avec Jada Toys, décorez votre salon avec des répliques de grands personnages de film célèbres ou de voitures de films de Hollywood. En notre qualité de fabricant de personnages d'action de Hollywood et de modèles réduits de voitures, nous créons depuis plus de 20 ans des pièces de collection fidèles et de qualité pour les enfants et les adultes.

Warning! Not suitable for children under 3 years due to small parts. Choking hazard!
---
Product details
• Coffret Spider-Man 2 en 1 : tout droit sortie des comics de Spider-Man, cette équipe de rêve en métal arrive à pleine vitesse ! Voici la figurine Spider-Man sous licence MARVEL dans une pose héroïque avec un son buggy aux nombreux détails.
• Design classique des comics : la figurine à collectionner Spider-Man (4,5 cm) et la voiture-jouet (19 cm) sont toutes deux conçues dans le design de la toile d'araignée rouge et bleu typique des comics et des films MARVEL.
• Voiture Spider-Man ouverte : au volant du bolide, Spider-Man est super flexible : sans toit, Spider-Man alias Peter Parker peut s'élancer dans les airs directement depuis son véhicule !
• Collectible MARVEL à partir de 8 ans : la voiture-jouet de Spider-Man est dotée de détails fascinants, tels que des roues en caoutchouc libres et décorées du masque distinctif du super-héros.
• Jada Toys : personnages d'action pour la maison : principal fabricant de personnages et modèles réduits de voitures de Hollywood, nous décorons votre salon avec des répliques de vos héros.