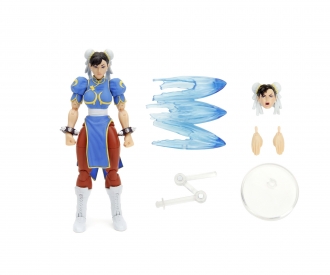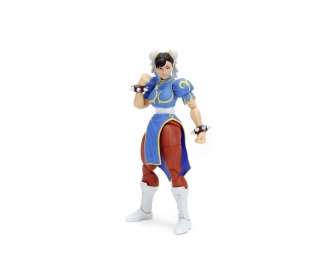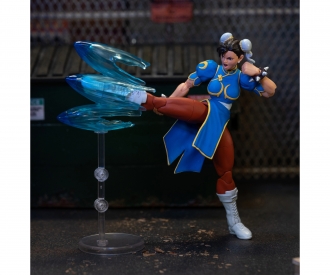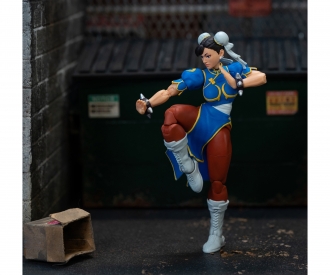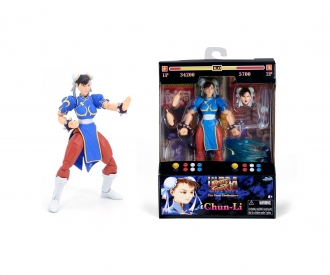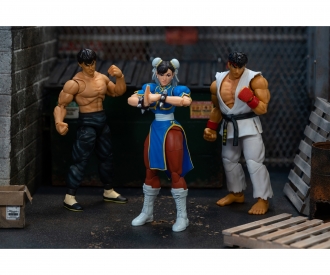 Quantity:
1
2
3
4
5
6
7
8
9
10
11
12
13
14
15
16
17
18
19
20
21
22
23
24
25
26
27
28
29
30
Delivery time 1-3 working days within Germany
Product information
Jada Toys Street Fighter figure CHUN-LI (6 inches/15 cm) - articulated collectible action figure from Street Fighter 2: The Final Challengers, with interchangeable head, hands + accessories, age 13+

Street Fighter figure Chun-Li as a Jada Toys model figure
• Chun Li action figure from the "Street Fighter II" arcade game series
• Accessories: additional head and hands to switch out, kick attack, stand
• Height: 6 inches (15 cm)
• Scale: 1:12
• Material: Plastic
• Age recommendation: 13 years and up
• Packaging in a game control panel design

Street Fighter collectible figure with countless kicks
Even in a scale of 1:12, Street Fighter Chun-Li proves why she is one of the most popular female action figures in the world: The Chinese undercover Interpol agent fights for justice, combining attacks at lightning speed with a fluid fighting technique. You can recreate her infamous moves in detail, like the HYAKURETSU KYAKU ("Hundred rendering kicks") where she executes a series of fast kicks in succession, thanks to more than 20 points of articulation and accessories.<br
Officially licensed Capcom product in a characteristic look
The decorative action figure comes in an outfit based on her iconic look in the Street Fighter II video game: a blue qipao dress, white combat boots, spiked bracelets and, of course, her typical "ox horn" hairstyle. Perfect as a collector's item or gift: The embodiment of strong female characters in video games, Chun-Li has a huge fan base and is a must-have in every Street Fighter collection!

Jada Toys - Hollywood heroes as toys and collectibles
Batman, Fast &amp; Furious, Harry Potter, Marvel, Minecraft or Transformers: With Jada Toys, you can bring famous Hollywood stars into your living room as detailed replicas of movie characters and cars. As a leading manufacturer of Hollywood action figures and model cars, we have been creating high-quality, detailed collectibles for children and adults for more than 20 years.

Warning! Not suitable for children under 3 years due to small parts. Choking hazard!
---
Product details
• THE female action heroine - Street Fighter character CHUN LI is considered one of the most famous female fighters in the world of video games, combining strength and speed with grace and elegance.
• Iconic look - just like in the Street Fighter II arcade game and anime series, the Capcom action figure is showcased in a blue qipao dress with spiked bracelets and her signature hairstyle.
• More than 20 points of articulation - for powerful attacks and smooth moves: The high-quality collectible CHUN-LI figure is fully articulated and comes in original arcade-style packaging.
• Countless kicks - in addition to an extra head and hands for switching out, the figure's accessories can be used to recreate HYAKURETSU KYAKU, an attack with a series of rapid kicks
• Jada Toys - action figures for home: As a leading toy manufacturer of movie characters and cars from Hollywood & beyond, we bring your heroes right to your living room as detailed replicas.